WELCOME TO BANANA BOBS!
Welome to Fall! Colorful autumn leaves, cool crips nights and sunny days. And then, HALLOWEEN, and treat giving time! For fall our delicious Island Banana, Banana Walnut, Banana Chocolate Chip, Chocolate Chip-Pecan, Banana Date, and Date Walnut, are all available, plus our acclaimed BANANA CRANBERRY! Perfect for breakfast, dessert, or snack time. Their size also makes them perfect for HALLOWEEN party gift giving. Banana Bobs breads are a tasty gift! And with Pay Pal, all credit cards are welcome.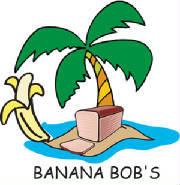 Our exclusive recipe breads are made from all natural ingredients so there are no trans-fats. We also "bake to order" so your breads arrive fresh everytime! Convenient 1 pound tin size with snap on lids, also make the perfect gift for holidays, birthdays, or any gathering. We're excited about the quality and taste of our breads, and know you will be too!
PayPal proudly accepts these cards: