HOT! HOT! HOT! WELCOME TO BANANA BOBS!
BANANA BOBS ALL BUTTER JAMAICAN BANANA BREAD is perfect for PICNICS, SUMMER CELEBRATIONS, OR LOUNGING BY THE LAKE! Choose from delicious Island Banana, Banana Walnut, Banana Chocolate Chip, Chocolate Chip-Pecan, Banana Date, and Date Walnut breads. Or, slice into one of my BRAND NEW BANANA RUM breads! and don't forget theWILD ORGANIC BLUEBERRY, BANANA CRANBERRY! AND our GLUTEN FREE Islander Banana, and Chocolate Chip! And now we even have available, our BLACK LOGO CAPS!!
Using PAY PAL, is fast and easy. All credit cards are welcome. And shipping is FREE.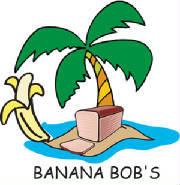 Our exclusive recipe breads are made from all natural ingredients so there are no trans-fats. We also "bake to order" so your breads arrive fresh everytime! Convenient 1 pound tin size with snap on lids, also make the perfect gift for holidays, birthdays, or any gathering. We're excited about the quality and taste of our breads, and know you will be too!
PayPal proudly accepts these cards: